Meeting and Event Rooms
Seminar Room
Located on the main floor, this room provides an ideal working arrangement for large discussion groups. The room can accommodate 30 people conference style and 40 for a banquet.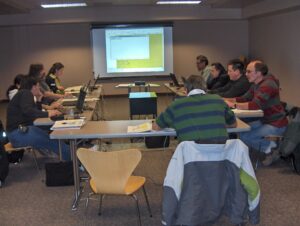 Teal Boardrooms
Located on the second floor of the Interpretive Centre, the Teal Boardroom features a scenic view of the marsh. The Boardroom can accommodate 30 people boardroom style or 40 for a banquet.
The Teal Boardroom can be divided into two or three smaller rooms. Each room can accommodate up to 10 people boardroom style.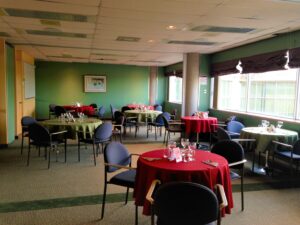 Theatre
The 118-seat multimedia theatre offers tiered seating; computer and internet hookup; LCD video projector;  hand-held and wireless microphones.
Willow Retreat—new!
A brand new facility nestled in our Willow Bluff. Includes kitchen, 2 washrooms, private deck and beautiful meeting space. Accommodates 40-50 people.
For current pricing:
OHM Facilities Information